REPOSITORIES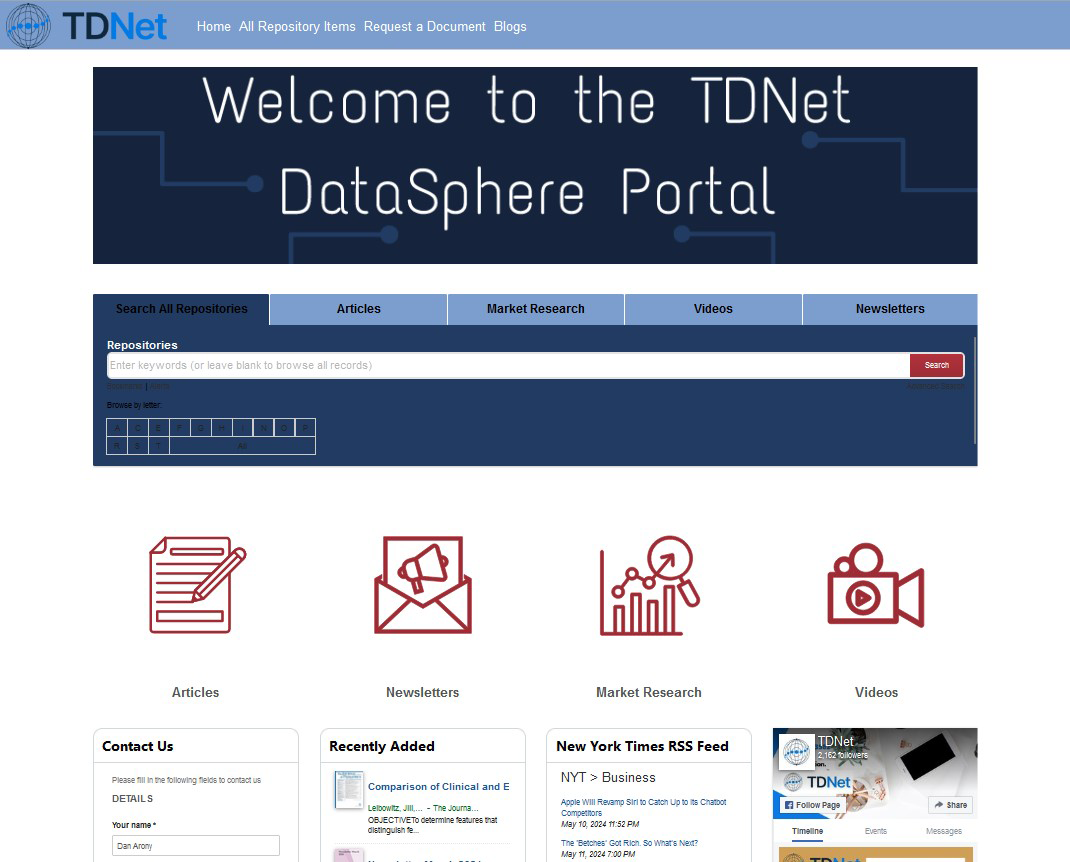 About TDNet DataSphere
TDNet DataSphere is a fully hosted repository service that enables companies, healthcare organizations, academic and other institutions to manage and discover their digital resources. Designed to meet the growing needs of knowledge management, TDNet DataSphere will make all your organizational resources easily accessible from a single platform.
TDNet DataSphere provides everything you need to create and manage an institutional repository, as well as numerous topics, dataset or workgroup-based repositories. Whether these are internal documents, guidelines, organizational scientific production, multimedia files and more, it's easy with TDNet DataSphere to manage and discover your digital knowledge assets.
TDNet DataSphere includes a secured cloud storage used to host files of any types, including:
Intuitive Search Interface
The full text of hosted documents is automatically indexed. Powerful search supports basic and advanced search modes and enables users of all experience levels to easily find relevant content.
TDNet DataSphere is implemented in customers across a variety of sectors, including corporate, medical and academic institutions. Robust content management system enables you to create a fully customized repository homepage and adjust the interface to meet your workflow, branding and design needs, without the need of any technical expertise.
Easy Management & Access to Resources
We provide around the clock service to implement the solution and handle ongoing support & maintenance requirements, ensuring that you can devote your resources to adding content to the repository.
Customers that are subscribed to both TDNet Discover and TDNet DataSphere benefit from a seamless integration of their discovery service and institutional repository, making all their content, including external library subscriptions and internal resources, accessible from a single platform.
Capabilities
Cataloging is faster & easier as the system automatically detects and extracts metadata from loaded documents.
You can create multiple metadata schemes to adjust for different types of records.
Powerful search engine makes it easy to discover repository content.
Administrators can control access permissions among user groups or individuals.
Seamless integration with organizational IT tools and third-party systems, including SAML & API support.
Benefits
Dedicated TDNet team
Working closely with the customer to setup the solution and handle ongoing maintenance, saving your organization time and money.

Customized Interface
Easily create your repository homepage with a fully responsive design.
Fully integrated with TDNet Discover
Single search point for library subscriptions and internal resources.

Advanced usage statistics
Analyze repository usage and demonstrate its impact.
Highest level of information security
Certified by leading international standards.